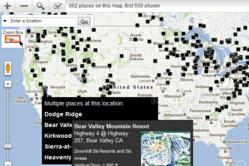 Reston, Virginia (PRWEB) January 05, 2012
MapMuse today announced the release of its Winter Fun and Winter Services maps, two series of web-based locators that find winter-themed retailers, services, and places across the USA and Canada. Included among the Winter Fun maps are topics like Ice Rinks, Ski Resorts, Snowmobile Tours, Polar Bear Plunges, and Winter Festivals, while the Winter Services maps include Fireplace Installation, Firewood for Sale, Wood Furnace Installation, and Snow Removal Services. In addition, MapMuse has released an update to their Winter Fun Locator iPhone app, which maps recreational topics like downhill skiing resorts and dog sledding events.
As far as I know, were the only website out there that creates interest-based maps for the different seasons, says Mike Pilon, owner of MapMuse. Were hoping that people come to MapMuse when theyre looking for anything that has to do with winter, be it the location of nearby ice rinks or the store where theyll buy their next parka. Although there are countless mapping platforms on the web, searching for the term Winter on most of them will only yield results that have Winter in their name or keywords. Searching for Winter on MapMuse, however, produces entire maps that are dedicated to the season. The locations that populate each map dont necessarily have Winter in their title or keywords, but they do sell winter-related goods or offer winter-related services. Think of it as searching by theme, rather than by keyword, says Pilon.
A good amount of research goes into compiling the databases of the maps, which are updated on an annual basis as the winter season rolls around. Although most of the data work takes place in-house, businesses and events featured on the maps also play a large role, as keeping their information current helps attract more customers. Users of the Winter Fun Locator App can also submit new locations, photos, and reviews directly from their iPhone or iPod touch. All newly added data is vetted by MapMuse for accuracy and authenticity before going live.
MapMuse, an internet and app development company based out of Reston, Virginia has lots of experience when it comes to creating seasonal map. The website offers Fall Season maps in addition to the winter ones, as well as maps based on every major holiday celebrated in America. Some of the holiday-themed maps that will likely see a good amount of traffic over the next month are New Years Ball Drops (of which there are way more than you'd think), Restaurants Open on Christmas, and Christmas Light Displays. We aim to be the one-stop locator for everything that has to do with the seasons and the holidays, says Pilon. This winter will be no different.
A complete list of current Winter Fun topics includes:

Bobsled Tracks and Luge Tracks

Cross Country Skiing

Dog Sledding Tours and Adventures

Ice Fishing

Ice Hotels

Ice Skating Rinks

Polar Bear Plunges

Ski Clubs

Ski Resorts and Ski Areas

Ski Shops

Sledding Hills

Sleigh Rides

Snow Tubing

Snowmobile Dealers

Snowmobiling Rentals and Snowmobile Tours

Snowshoeing Clubs

Winter Festivals and Carnivals
A complete list of current Winter Services topics includes:

Chimney Sweepers

Christmas Light Installers

Fireplace Retail and Fireplace Installation

Firewood For Sale
No related posts.
Tweet
Buffer