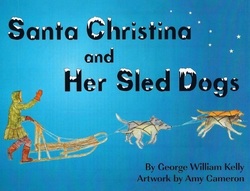 New York, NY (PRWEB) September 30, 2010
Santa Christina, the wife of Santa Claus, will deliver half the Christmas toys by dog sled this year, says a newly published children's picture book. Her husband will deliver the other half as usual with his sleigh and reindeer, the book adds.
Santa Christina's active participation in delivery of Christmas toys was asserted here today by octogenarian author George William Kelly in his newly published childrens picture book,"Santa Christina and Her Sled Dogs." It is illustrated by Amy Cameron and published by McRoy & Blackburn, Publishers, of Ester, Alaska. The 32-page hardcover book, for ages 0-8 years, retails at $ 14.95. It has a website at http://www.santachristina.wordpress.com .
This is the first major change in American Christmas tradition in 187 years, said Kelly. The last big change–Santa Claus landing on rooftops with his eight flying reindeerwas introduced in 1823 with the poem, "A Visit from St. Nicholas," by Clement Clark Moore. Before that Claus was imagined as St. Nicholas with a bishops robe, a staff, and a miter but no reindeer. St. Nicholas still visits some countries by foot in that older style.
Until now, Santa Clauss wife has been known to most people only as Mrs. Claus, Kelly added. Tradition shows her wearing an apron, baking cookies, knitting sweaters, and rocking by the fireplace. All attention has been concentrated on her famous husband. Girls and boys did not even know her name.
The new book tells us her name is Santa Christina. It describes her as folllows: She is an up-to-date, modern woman. She loves to mush with her team of seven sled dogs beneath the Northern Lights. She asked the North Pole elves to find seven dogs in seven northern countries: the U.S., Canada, Greenland, Iceland, Norway, Finland, and Russia. She named the dogs Ginger, Marzipan, Strudel, Stollen, Cocoa, Nutmeg, and Haark. Haark is the lead dog of the team.
In the book, she and her dogs travel to Alaska to watch the famous Iditarod Trail sled dog race. They also accompany Santa Claus to Macys Thanksgiving Day Parade in New York City. While there, they mush through Central Park and chance upon the famous bronze statue of Balto the Sled Dog.
Related posts:
Dr. Mehmet Oz, #1 Best-Selling Author, Contributes to Stephanie Lerner's "Kids Who Think Outside The Box" Book as One of the Featured "Living Legends"
Physical Therapy Doctor and Head Injury Survivor Uses Experiences to Write New Book: Temporomandibular Joint Disorders: One Name for Two Diagnoses
Tweet
Buffer