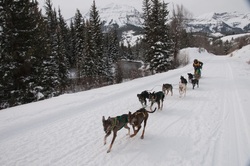 Jackson, Wyoming (PRWEB) January 6, 2011
Jackson Hole's record snows this season are good for more than skiing: The largest sled dog race in the lower 48 states, the International Pedigree Stage Stop Sled Dog Race (IPSSSDR), mushes out of Jackson, Wyoming, on January 28, 2011. Twenty-two teams, including sled dog racing's current distance and sprint champions, will leave the starting line in Jackson's Town Square at 6:30 p.m. Visitors enjoy the excitement of the race start, fireworks and even a free Pedigree-sponsored party in Jackson before the race continues through 11 Wyoming communities with down-home activities leading to the big Park City, Utah, finish on February 5.
Eleven newcomers or rookies to the IPSSSDR will race this year. Eight teams come from outside the U.S., with teams from Canada, including British Columbia, Alberta, Ontario, and Northwest Territories, as well as Sweden and Jamaica. Five teams this year will be driven by women. The youngest musher is 19 and the oldest, 60.
Communities on the race route host various festivities to welcome mushers and dogs as they speed through town, offering Dutch oven dinners, flapjack frenzies and musher mania events that include a human sled dog race and snowshoe softball. Participating communities in addition to Jackson and Park City include Lander, Pinedale, Cora, Big Piney, Marbleton, Alpine, Kemmerer, Diamondville, Evanston, Mountain View and Lyman in Wyoming.
With its unique stage stop format, the IPSSSDR has become a popular mushing event attracting the world's top competitors. Pedigree
Related posts:
Tweet
Buffer