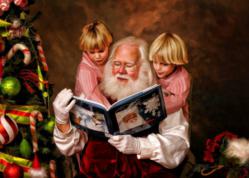 Anderson, SC (PRWEB) November 15, 2011
South Carolina-based illustrator-author Scott Foster presents a sneak peek into his third book: The Magic of Santas Elves.
In the third book of The Magic Series, young Bradley, explores the wonder of The North Pole and shares details about Santas Elves and other magical mysteries previously known only to Santa and his helpers. Creator, Scott Foster is sharing snippets of the next book at this seasons book readings and signing events. According to Foster, the much-anticipated release of book three will be announced after Bradleys journals and sketches have been carefully assembled and re-told through his writing and illustrations.
Fosters imaginative explanations of Christmas magic and captivating illustrations transport readers to a world where snow tastes like sugar cookies, snowpeople talk, a sled really flies, and the North Pole is home to Santa and many other special helpers.
Readers are first introduced to Bradley in book one: The Magic Snowflake. Young Bradley and his dog, Finnegan, discover one Christmas Eve that wishing on North Pole snowflakes can make dreams come true. After finding a mysterious sled perched in a tree, Bradley learns from Santa himself that a new Santa is named every 100 years, and, per his wish, he is the next candidate.
In book two, The Magic Sled, its Christmas morning and Bradleys parents are introduced to the enchanted sled with a note from Santa explaining that Bradley is to become the next Santa. From magic corn to an orchard of snopples, readers are invited to a snowy wonderland of Christmas magic.
According to a recent reviewer of the books: If youve ever questioned how Santa can accomplish so much in one night, or been confused about seeing so many Santas during the holiday season, or wondered what North Pole hot chocolate tastes likeyou just have to read these books! Youll feel your heart smile as love and joy are woven throughout each page.
Supporters of Foster's work have declared that children of all ages big kids too love the captivating story of The Magic Snowflake and The Magic Sled. Foster encourages readers to get copies of the first two books before book 3 is released. Ask for them by name at local book stores or gift stores, or go online to TheMagicSnowflake.com.
###
Related posts:
Tweet
Buffer