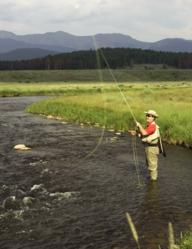 Grand Lake, Colo. (PRWEB) April 28, 2011
The economy may be recovering, but consumers continue to search for ways to stretch a dollar, especially on vacation. Grand Lake, one of Colorados most scenic, historic towns, located at the western entrance to Rocky Mountain National Park, is offering a wealth of budget-friendly summer activities.
Nestled beneath craggy, snow-capped mountain peaks in the heart of the Colorado Rockies, Grand Lake is located 100 miles west of Denver. Sitting at the edge of Colorados largest natural lake, bordering two large reservoirs, the town offers low-cost (or free) attractions ranging from stunning hikes to repertory theater.
Free

The Boardwalk The Wild West lives on in the rustic architecture, hitching posts and historic boardwalk on Grand Avenue. More than 60 shops, restaurants, galleries and bars line the boardwalk, with some of the buildings dating back to the towns founding in 1881.
Music in the Park (June-August) Concerts take place every Wednesday, 5-7 p.m., at the gazebo in Town Park.
Fireworks Grand Lake puts on the largest 4th of July fireworks display in Colorado, with colors exploding over, and reflecting in, the lakes.
Grand Lake Lodge Few visitors to Grand Lake can resist a visit to the stately, rustic lodge for a rest or drink on the porch. Occupying a spot on the National Registry of Historic Places, the lodge has 56 cabins and is surrounded on three sides by Rocky Mountain National Park.
Hiking More than 350 miles of trails, branching off from 35 trailheads, are available in Rocky Mountain National Park. Dozens of other trails, ranging from easy nature walks to strenuous backpack trips, begin in and around Grand Lake. Popular hikes include Adams Falls, a short walk that takes visitors to a stunning waterfall; Cascade Falls, a seven-mile (round-trip) jaunt that meanders by more than 80 species of wildflowers; and the Shadow Mountain Fire Lookout hike, a 6.6-mile (round-trip) walk that accesses the National Register of Historic Places three-story rustic stone and wood tower with 360-degree views of Grand Lake, Arapaho National Forest and Rocky Mountain National Park.
Wildlife Viewing – The Grand Lake area is home to elk, moose, big horn sheep, black bears, mule deer and coyotes. More than 3,000 elk reside in Rocky Mountain National Park alone; at summers end, the bugling sounds and competitive cries echo deep and far. The area also boasts 280 species of birds, including a plethora of eagles and hawks.
Cost: $ 5-10

Kauffman House Museum – The historic Grand Lake museum comes alive as local colorful figures, in costume and in character, re-enact Colorado pioneer life in the 1800s and 1900s. Cost: $ 5.
Historic Walking Tour Photos and descriptions of the historic homes and businesses give an up-close and personal look at the town. Cost: $ 5.
Circle H Retreat The lakeside lodge and lounges Great Room overlooks Lake Granby, and offers views of Rocky Mountain National Park, the Continental Divide, and live music on Thursdays. Cost: $ 5-10.
Go-Carts At Rocky Hi Speedway, the course offers a challenge for all abilities, from student drivers to race-hardened pros. Cost: $ 7/person; $ 1/passenger.
Bingo in the Park The town hosts outdoor bingo in the town park pavilion every Friday and Saturday night during the summer (May 27-Sept 4). Games begin at 7:30 p.m. Cost: $ 10 or less.
Fishing Grand Lakes roaring Tonahutu River, the headwaters to the Colorado River, is just one of the hundreds of lakes, streams and creeks in the area. Several stretches of the Colorado bear the official designations of Gold Medal Streams and Wild Trout Waters. Lakes, reservoirs and tailwaters offer large rainbow, brown, brook and cut-bow trout, northern pike, mackinaw and Kokanee salmon. Licenses are available from the Colorado Department of Wildlife, licensed agents or local fly shops. Cost: $ 9/day; $ 21/five-day non-resident license; $ 26/one-year Colorado resident license.
Cycling Mountain bikers will find hundreds of miles of trails, with Rocky Mountain National Park bordering Grand Lake on the east and Arapahoe National Forest on the west. There are even 10 miles of dog-friendly trails by the Grand Lake Golf Course. Road cyclists from around the world come to ride Trail Ridge Road through Rocky Mountain National Park. Mountain bike rental cost: $ 10-25/half-day. Cyclist national park fee: $ 10/person.
Cost: $ 15-30

Rocky Mountain National Park The park, established in 1915, encompasses 265,769 acres and includes 150 lakes, 476 miles of creeks and streams, and some of the highest peaks in Colorado. Activities include hiking, backpacking, bird watching, camping, wildlife viewing, horseback riding, biking, fishing and driving Trail Ridge Road, the highest continuous paved road in the United States. Cost: $ 20/vehicle (seven days); the park is free April 16-24 (National Park Week), June 21 (first day of summer) and Sept. 24 (Public Lands Day).
Golfing At Grand Lake Golf course, dubbed the jewel of the Rockies, golfers can score some great deals. Cost: $ 22 for nine holes in low season (through June 9 and after Sept. 11; its only $ 32 in regular season); $ 21/Twilight Special in low season; $ 25 for juniors (age 17 and under) playing 18 holes anytime of the year.
Date-Night Golfing Each Thursday, Grand Lake Golf Course offers Couples Date Night. Tee times for nine holes of play start at 6 p.m. Cost: $ 20/person ($ 40/couple) for greens and cart fees, and box dinner.
Rocky Mountain Repertory Theater The theater, now in its fourth decade, opens the 2011 season June 10 with Beauty and the Beast in its new 12,000-square-foot complex. Other performances during the season include Guys and Dolls, Chess, and Almost Heaven: The Songs of John Denver. Cost: $ 30/adult; $ 15/children 14 and under.
Geocaching The Grand Lake Chamber of Commerce provides geocaches throughout local businesses and the surrounding area for this high-tech treasure hunting game. Cost: $ 25/GPS device.
Scenic Boat tour of Grand Lake Visitors can learn the history of the lake, town and surrounding homes on Headwaters Marinas scenic boat tours around Grand Lake, offered twice a day. Cost $ 17/adult; $ 12/children 12 and under.
The Grand Lake Chamber of Commerce maintains an up-to-date listing of lodging specials, available for each season, at http://www.grandlakechamber.com/specials.html.
Grand Lake, Colo. (http://www.grandlakechamber.com)

Grand Lake, Colo., is a historic mountain town nestled beneath craggy, snow-capped mountain peaks in the heart of the Colorado Rockies. Located just 100 miles west of Denver, Grand Lake sits at the edge of Colorados largest natural lake, and is the western gateway to Rocky Mountain National Park.
Grand Lakes extensive outdoor recreation activities include fly fishing, boating, sailing, horseback riding, golfing, hiking, mountain biking, camping in the summer, and snowmobiling, cross-country skiing, snowshoeing, ice skating, sledding, tubing and ice fishing in the winter. The town is home to the acclaimed Rocky Mountain Repertory Theater, and its famous Old West boardwalk, lined with 60 shops, restaurants and galleries.
###
Related posts:
Tweet
Buffer