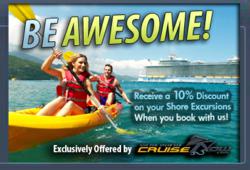 Charlotte, NC (Vocus/PRWEB) March 30, 2011
Cruise Vacation Discount Company CruiseNow.com recently announced a new unique opportunity for all cruise vacationers. Starting immediately every cruise customer of CruiseNow.com will receive a 10% discount off certain cruise shore excursions. This is a great offer for all cruise enthusiasts, as shore excursions can be large financial commitment for cruisers.
In addition CruiseNow.com has launched a new online shore excursion booking platform that is extremely easy to use. Cruisers with a few clicks of the mouse see their exact cruise itinerary with each port of call and each excursion offered in that specific location. Full descriptions and cost are also in the new booking platform. After the customer makes a reservation with CruiseNow.com, either online or with a Personal Cruise Guide, they are given a special coupon code that can be used while booking the excursions. Our customers are so excited with this new promotion, says John Keen CEO of CruiseNow.com. Our feedback has been overwhelmingly positive and they are telling us that they love the extra savings on these shore excursions.
A family of 4 on a standard 7 night Caribbean Cruise will, on average, spend at least $ 1500 on excursions during their cruise vacation. With the CruiseNow.com discount shore excursion promotion theyll save $ 150. In addition to that savings, most of the excursions offered online at CruiseNow.com are lower than booking direct with the cruise line. Its a definite win for consumers.
Some examples of shore excursions offered online at CruiseNow.com are helicopter sightseeing or dog sledding in Alaska, swimming with the dolphins or para sailing in the Caribbean, a private tour of the Vatican or visiting the Hermitage in Europe, all just to name a few. So many choices, all priced lower than direct with the cruise lines and during this promotion another 10% off. Clients of CruiseNow.com are really taking advantage and saving a tremendous amount on their overall cruise vacation experience.
About CruiseNow.com

The next generation in online cruise travel, CruiseNow.com is proud to bring cruising enthusiasts around the country a number of new, exciting technologies to find the best discount cruises possible. With its innovative CruiseText
Related posts:
Tweet
Buffer