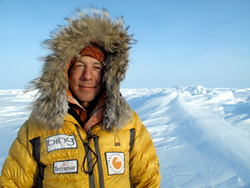 Boulder, Colo. (Vocus) October 15, 2010
After over 44 days on Mount Everest, Polar explorer Eric Larsen announced today that he was able to summit Everest today, making him the first-ever human to successfully reach the South Pole, North Pole and summit of Mt. Everest in a continuous 365-day period. On January 6, 2010, Larsen and his team successfully completed a 750-mile, 48-day ski traverse to the Geographic South Pole. Larsen and a separate team reached the Geographic North Pole on April 22nd, Earth Day, after a 51-day, 500 mile push that included snowshoeing and skiing across shifting sea ice and sometimes even swimming across open water sections of the Arctic Ocean. His purpose for the Save the Poles expedition is to connect people with our last great frozen places and the environmental issues that are impacting them. Larsen uses these expeditions to promote individual action and national legislation on climate change issues.
I have been to the front lines of Global Warming during my journeys to the North and South Poles, Larsen says. We can save the poles and our planet if we act now.
With todays advances in technology and new social media platforms, Larsen has been able to stay connected with thousands of fans and expedition followers across the globe by harnessing solar power to assist with daily blog updates, tweets, podcasts, satellite phone calls and photo streams. Earlier this year, Larsen checked in with Twitter and Facebook followers by sending the first ever tweet from the North Pole on Earth Day. For the Everest leg of the expedition, Larsen has included video updates from the mountain on an almost daily basis, as well as a more interactive approach to conversing and answering questions via Twitter and Facebook.
Not only can I reach more people than ever before through social media, but I can also actively engage a very diverse audience in conversations about these places and the issues surrounding them, commented Larsen.
In addition to his avid use of technology and social media platforms to help tell the story, Larsen has partnered with the Wolf Ridge Environmental Learning Center and the Protect Our Winters Foundation to provide a climate change curriculum available as a free download on the expeditions web site. Larsen will also team up with the Center for Biological Diversity to petition Congress and the President on the need for stronger climate legislation.
A member of The Explorers Club, Larsen isnt new to the world of polar exploration. Larsen completed the first-ever summer expedition to the North Pole in 2006 where he pulled and paddled modified canoes nearly 600 miles. In January 2009, Larsen successfully led an international team to the geographic South Pole becoming one of only a few Americans to ski to both poles.
The Save the Poles expedition is sponsored by Bing and Terramar with major support from Goal0, Sierra Designs, MSR, Scream Agency, Stanley, Therm-a-Rest, webExpeditions and Optic Nerve.
The Save the Poles Expeditions objectives are:

Related posts:
Tweet
Buffer