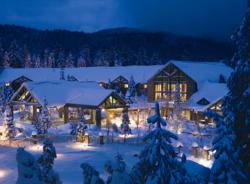 Fish Camp, Calif. (PRWEB) January 24, 2012
Yes, it was a historic treat to mountain bike and hike a snowless Sierra National Forest, drive Tioga Road and up to Glacier Point, walk through the Mariposa Grove and skate on Tenaya Lake the past few weeks. But get your skis, snowboards and sleds ready; winters first snowstorms are finally here.
Sierra snowfall changes everything at Yosemite National Park, adding scenic drama as it opens up an entire new playground of winter sport options. Tenaya Lodge at Yosemite has 48 acres of fun activities on site at the lodge, and lodging packages that create the perfect conditions for a winter getaway.
Snow play options include the resorts own sledding hill (enhanced by Tenaya Lodges new snow making capability), ice skating, horse-drawn sleigh rides, snowshoe hikes and kids snowmobiling. Yosemites Badger Pass Ski Area is just 45 minutes away via forest-lined highway; it may be the Sierras best place to learn how to ski and snowboard. The midweek Yosemite Stay N Play Pass makes it even more affordable and fun the pass is only $ 50 each for adults and $ 30 for kids, valued at up to $ 175! Available to all Tenaya Lodge guests, Stay N Play includes an all-day Badger Pass ski lift ticket and equipment rental, group ski or snowboard lesson, snow tubing session, a ticket for the Yosemite Valley Floor Tour, and an ice skating session at Curry Village.
Stay N Play passes are available to March 29, 2012. Each component of the pass may be used once on the same day and this deal may be combined with any other Tenaya Lodge offer or package. Blackout dates include February 17 24, 2012 and all weekends.
Tenaya Lodge welcomes winter guests with some of the best lodging values of the year. Tenaya Lodges Skate the Sierra Package offers an ice-skating session and skate rentals for two at the resorts own rink from just $ 169. The Bed and Breakfast Package puts breakfast for two in play at Sierra Restaurant, starting at $ 155.
After a full day of snow play, recharge and renew at Ascent Spa at Tenaya Lodge. Starting at $ 245, the all-new Ascent Sports Spa Package includes a 60-minute Sports Relief massage and 30-minute Skiers Delight foot treatment, plus a voucher for 10% off all spa products. The WinteRx Spa Package features a one-hour, antioxidant and phytonutrient-rich body renewal treatment and a voucher for 10% off spa products its the perfect prescription for cold-weather skin and available through March 31, starting at $ 205. The Snow Time for Romance Package features chocolate-covered strawberries, champagne, smores, chocolate kisses and artfully-strewn turndown rose petals, all starting at $ 189.
When winter arrives, so do natural phenomena that make Yosemite National Park a year-round wonder. There's frazil ice, radiant Horsetail Fall, and the first flower blooms peeking through winter's cracks. Capture this pristine wonderland with Tenaya's Yosemite Photography Package, starting at just $ 379.
Dogs have at least as much fun in the snow as people do. Tenaya Lodge turns them all into sled dogs with its Fido Friendly and Deluxe Pampered Pet packages, starting at $ 205 and $ 235/night. Fido Friendly includes a plush dog bed and water bowl for use during stay, tips on great canine activities at and around the resort, and complimentary treats. Deluxe Pampered Pet adds a gourmet dog bone baked fresh by Tenaya Lodges Executive Chef and pet-sitting time for guests to enjoy a spa package or romantic dinner.
The all-new Tenaya Top Chef Package gives guests a chance to savor a unique food experience that includes a Friday night stay, hands-on cooking class and lunch with Tenaya's Executive Chef Frederick Clabaugh. The Tenaya Top Chef package starts at $ 279.
All winter lodging packages include one night deluxe accommodations plus package-specific extras. For more details on Tenaya Lodge at Yosemite winter lodging packages, please see http://tenayalodge.com/Specials or call toll-free, (888) 514-2167.
About Tenaya Lodge at Yosemite
Tenaya Lodge at Yosemite is an all-season resort framed by noble evergreen forest ad a rich range of Sierra recreation. The lodge, set adjacent to Yosemite National Parks South Gate at an elevation of 5,288 feet, offers 297 rooms, suites and mountain cottage accommodations. Tenaya Lodge offers easy access to Yosemites iconic attractions and many guests savor the alpine serenity of the new Ascent Spa at Tenaya Lodge. Resort dining options run the table from casual to candlelit at Sierra, Jackalopes, Timberloft and Embers restaurants. For more information, visit the newly redesigned website, http://www.TenayaLodge.com.
About Delaware North Companies Parks & Resorts
Delaware North Companies Parks & Resorts is an industry leader providing Stewardship and Hospitality in Special Places SM, with hotel, retail, food service, recreation and transportation operations at historic and scenic properties in North America and Australia. The company operates Kennedy Space Center Visitor Complex and in Yellowstone, Grand Canyon, Sequoia and Yosemite national parks, including The Ahwahnee and other Yosemite lodges; Tenaya Lodge at Yosemite & the Cottages at Tenaya Lodge; Harrison Hot Springs Resort & Spa in British Columbia; Niagara Falls State Park; The Lodge at Geneva-on-the-Lake in Ohio; Gideon Putnam Resort in Saratoga; Holiday Inn West Yellowstone, Gray Wolf Inn & Suites and Yellowstone Park Hotel. The company also owns and operates five luxury resorts in Australia: Lizard Island Resort, Heron Island Resort, Wilson Island Resort, Kings Canyon Resort and El Questro Homestead and Wilderness Park. To learn more about Delaware North Companies hospitality management expertise, visit http://www.experiencednc.com.
###
Related posts:
Tweet
Buffer