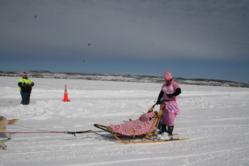 Grand Marais, MN (PRWEB) January 05, 2012
There's plenty of snow now on Minnesota's Gunflint Trail for the 6th annual Mush for a Cure Sled Dog FUNdraiser but as organizers know conditions can change between now and March. It doesn't seem to matter if there's snow or not because the show will go on regardless.
"I think the year we didn't have enough snow to mush the mushers had more fun than ever," says Mary Black co-founder of Mush for a Cure. When warm temperatures melted snow on top of the ice causing conditions too dangerous for dogs to travel Mush for a Cure organizers put together a fun-filled activity for the mushers to do without their dogs.
After all Mush for a Cure isn't a race and everyone's a winner for raising money for the fight against breast cancer. Since Mush for a Cure began they have donated over $ 100,000 to the National Breast Cancer Foundation. Unlike a dog sled race where the dogs do most of the work the Mushers do the majority of the work for Mush for a Cure.
Participants collect pledges in order to participate in the event. The person who collects the most money gets to choose a prize to go along with the other items event organizers include in their goodie bags. Most mushers agree it isn't for the biggest prize they raise money for, it's for the chance to help put an end to breast cancer.
Mush for a Cure isn't just for mushers it's for the entire community. There's a big pink party Friday night of the event that everyone enjoys. One year it was a Pink Prom, last year it was a Pink Masquerade Ball and this year it's a Pink Pajama Party. Also gaining popularity is the Brave, Bald and Beautiful head shaving event.
There's plenty of ways to participate during the March 9-11th, 2012 Mush for a Cure festivities. If you can't make it to the Gunflint Trail then don't worry you can still donate online snow or no snow your donations will count.
###
Related posts:
Tweet
Buffer