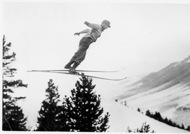 Granby, Colo. (PRWEB) November 01, 2011
The Grand Winter Sports Carnival will take place throughout the mountains of Grand County Dec. 30 through Feb. 11.
The festival marks the 100th anniversary of the first winter carnival west of the Mississippi. The six-week-long celebration, presented by the Grand County Historical Association, will encompass all aspects of historical and modern winter sports, celebrating the prominent role of Grand County in the heritage of Colorado skiing. Events ranging from ski jumping and skijoring to a snowshoe softball tournament and the Grand Snow Ball will take place in Winter Park, Fraser, Grand Lake, Granby, Kremmling, Hot Sulphur Springs and the mountains, lakes and valleys throughout Grand County.
Winter Carnival Events

Dec. 30 (Hot Sulphur Springs) Along with opening ceremonies, the opening of the outdoor ice rink, historic sites tours, and a food and fun fest, the Corona-to-Hot Sulphur Springs Reenactment Trek will re-create the original 44-mile cross-country ski trip by Carl Howelsen and Angell Schmidt in 1911. Fireworks will conclude the evening.
Dec. 31 (Hot Sulphur Springs) Rail Jam exhibition, ice sculpture demostrations, ice skating races and kids games
Jan. 21-22 (Winter Park) Winter Park Snow Fest and Mary Janes Birthday Bash
Jan. 27-29 (Granby) Three Lakes Ice Fishing Tournament
Feb. 4 (Grand Lake, Fraser) Grand Lake Winter Carnival, Grand Park Dog Sled Races
Feb. 11 (Hot Sulphur Springs, Granby) The Button Parade will celebrate Grand County Hall of Fame Horace Button. Additional events include a three-legged ski race, a Coulter-to-Hot Sulphur Springs ski race imitating the original mail route, and the Grand County Town Challenge Snowshoe Softball Tournament. The Grand Snow Ball will conclude the evening in Granby.
Dec. 31-Feb. 11 Ongoing events include: skijoring clinics with dogs (Tabernash); a ski movie fest at libraries throughout Grand County; the Pioneer Museum Winter Carnival Exhibition (Hot Sulphur Springs); the Kauffman House Ski Exhibition (Grand Lake); and the Cozens Ranch Museum Ski History Exhibition (Fraser).
For details on all events, see http://www.grandwintercarnival.com.
History

In the Grand County of 1911, skiing was a necessary mode of transportation rather than a sport or leisure activity. Mail carriers, loggers and others used Norwegian snowshoes to do their jobs in long, snowy winters. Gradually, citizens began adapting snowshoes and skis to race down the slopes for fun. In large part due to the work of Norwegian Carl Howelsen, Grand County became one of the first areas in Colorado to adopt sport skiing.
In December 1911, Hot Sulphur Springs the oldest town in Grand County hosted Colorados first winter carnival, which historians consider the birth of the ski industry in the American west. The original carnival featured ice skating, togogganing, cross-county skiing and the newly invested sport of ski jumping complete with a ski jump exhibition by Howelson. The enthusiasm for the event spurred organizers to host the first Annual Hot Sulphur Springs Winter Carnival six weeks later, in February 1912.
Grand County, Colo.

Located 67 miles west of Denver, Grand County is home to wide-open spaces, breathtaking mountain scenery and authentic old-west towns. Outdoor recreational activities include golf, boating, fishing, biking, hiking, fishing, hunting and horseback riding.
The area features more than 600 miles of mapped and marked trails, one national park, two national forests, two wilderness areas, two national scenic byways, two major ski resorts, five world-class dude ranches and four mountain golf courses. Grand Countys extensive water network includes Colorados largest natural lake, 1,000 miles of streams, 1,000 acres of high-mountain lakes and 11,000 acres of reservoirs.
###
Related posts:
Tweet
Buffer