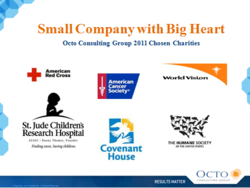 Mclean, VA (PRWEB) January 14, 2012
Octo Consulting Group, a leading provider of technology and management consulting services to the Federal government, celebrated the holiday spirit by donating $ 60K to 39 different charities. The highest contribution of $ 5,000 went to Covenant House International. Covenant House International is a charity whose mission is to provide immediate and long term support and care to homeless children in crisis. Octo Consulting Group was able to make such a large donation by promoting this cause on Facebook. For every new "Like" posted on Octos Facebook page (http://www.facebook.com/OctoConsulting) between December 15th, 2011 and Christmas Day, the company donated $ 10 to Covenant House International. In just ten short days, Octo received just under 500 likes and donated $ 5000 to Covenant House International.
Octo Consulting Group also gave each of their employees the opportunity to donate $ 501 to a charity of choice. Octo contributed over $ 60,000 to 39 different charities during calendar year 2011. We are very fortunate to have the opportunity to give back to the community this holiday season." said Mehul Sanghani, President and CEO of Octo Consulting Group. "Each employee has chosen a charity that is close to their heart with hopes of making a difference in someones life.
The top choices included organizations such as St. Jude Children's Research Hospital, the Children's Inn at the National Institutes of Health, the American Cancer Society, World Vision, Red Cross, Toys for Tots and the Humane Society. "This is the second year running that MehuI has provided each of us an opportunity to donate $ 501 to the charity of our choice. said Nick Totten, Associate of Octo Consulting Group. I find it to be representative of the Octo ideals and a genuine reflection of the positive nature of the firm."
List of organizations for donations chosen by Octos employees:

1.
Related posts:
Tweet
Buffer