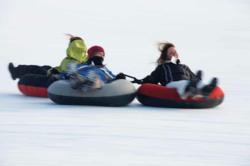 Winter Park-Fraser Valley, Colo. (PRWEB) January 11, 2012
Mother Nature is being stingy with the snowfall so far this winter across the United States, with less than 20 percent of the nation covered in the white stuff. But, as Winter Park-Fraser Valley points out, it is still possible to book a fun-filled winter vacation.
Weve been spoiled with early and often dumps of Colorados champagne powder in recent years, says Catherine Ross, Winter Park-Fraser Valley Chamber Director. Were confident the snow will come this year, too. In the meantime we want to remind vacationers that there are plenty of reasons to choose a mountain resort for your winter vacation right now!
Here are just five reasons Ross says travelers can look on the bright side of a slow start to the snow season.
1.
Related posts:
Tweet
Buffer