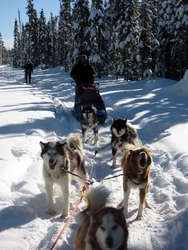 Beverly, MA (PRWEB) April 27, 2011
Overcoming sub-zero temperatures, high winds and unfavorable conditions on the arctic ice, on April 23rd Wendy Booker became the first person with MS to stand at the North Pole.
After trekking the last degree to the North Pole with her canine and human teammates, Wendy awoke to near blizzard conditions and frigid temperatures on Easter morning at the top of the world. April 24th is her birthday, and a birthday celebration on ice at the North Pole was the best present Wendy could receive!
The first leg of a long and arduous mission, the North Pole is only one of three arctic expeditions that Wendy plans to undertake on her way to completing the Polar Trilogy. In December of 2011 she will follow up her North Pole triumph with a cross-country ski trek to the South Pole. 2011 will mark the 100th anniversary of the famous Scott and Amundsen race to the Pole in 1911, and Wendy is honored to participate in this historic centennial year. Next spring, shell be tackling the frozen expanse of Greenland to complete the Polar Trilogy, again supported by dog sled.
How does a New England interior designer come to find herself mushing to the North Pole?
Diagnosed with multiple sclerosis in 1998, Wendy was initially devastated. But it took little time for her to transform anguish into inspiration by running the Boston Marathon. Over the past decade she has continued running with ten marathons under her belt the latest being the New York Marathon in the fall of 2010.
Not content with running, Wendy joined a team of climbers with MS who were attempting to summit Denali (Mt. McKinley) in Alaska. With no previous climbing experience, she dedicated a year to hard training and set off with them in 2002. Although weather conditions prohibited the team from summiting, Wendy attempted Denali again in 2004 and she succeeded, becoming the first person with MS to stand atop the highest mountain in North America.
On Denali an idea was born. Why not try for the Seven Summits? The loftiest heights on each continent A holy grail for climbers Why not do it in spite of MS? In that moment, Wendy Booker began a decade long quest to reach the top of the highest mountain on each continent, successfully climbing Mt. McKinley, Mt. Kilimanjaro, Mt. Elbrus, Mt. Aconcagua, Mt. Vinson Massif and Mt. Kosciusko.
After two grueling attempts on Mt. Everest in 2009 and 2010, Wendy was faced with the stark realization that the highest peak on earth would elude her. She had simply taken her body as high as it could go. In the process of finding contentment in climbing 6 and
Related posts:
Tweet
Buffer