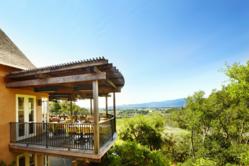 Mill Valley, CA (PRWEB) February 17, 2012
Auberge Resorts owners and operators of award-winning luxury resorts and clubs in some of the most desirable destinations in North America, added another dimension to the guest experience with the launch today of Auberge Adventures, an extensive collection of programs offering exploration, enrichment and discovery.
Auberge Adventures were inspired by the culture, natural environment and history of each Auberge propertys iconic setting, from verdant Napa Valley to the sweeping landscapes of Santa Fe, the Rocky Mountains of Aspen, Coastal Baja and the history-rich Carolina Lowcountry. Programs range from culinary experiences to fitness and cultural explorations. Created exclusively for Auberge guests, many of the programs are led by local experts and leaders in their field.
Our guests are active, inquisitive and eager to explore, said Mark Harmon, CEO, Auberge Resorts. Auberge Adventures go beyond the conventional to offer new and different ways to experience a destination. When added to the idyllic settings, world class dining and spas at our resorts, we believe a little adventure or exploration makes for the perfect resort getaway.

Highlights of the Auberge Adventures program include cultural explorations, such as:
Adventure programs include:

Related posts:
Tweet
Buffer