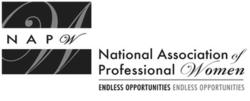 Garden City, NY (Vocus/PRWEB) April 07, 2011
The NAPW Pittsburgh Chapters March meeting opened at 6:25pm and proceeded with the following members in attendance: Dena Heinlein, Beth Lynch, Susan Bosco, Melody Firmani, Dierdre Krymski, Alicia Passerin (new member), Kelly Ann McMillin, Ute Miller, Debra Griffiths (new member) and Wanda Waite.
The group met at the Station Square Sheraton on Pittsburghs South Side and members liked the venue so much that it was voted the default meeting venue for the third Thursday of each month. The Chapter does not anticipate a change in venue until membership grows beyond the budget there.
We hope that the other sights and attractions in that setting will encourage more members to attend the meetings, said President Susan Bosco. Chapter socials will still be held at various other locations, as appropriate for each event.
The Chapter welcomed new member Melody Firmani, who reminded us that her company, ACN Services Provider, will be featured on the March 27th airing of Celebrity Apprentice. Also noted was that members Dena Heinlein and Kelly Ann McMillin intend to go to the New York NAPW convention on April 29th.
Marchs 15 Minutes of Fame presentation was by Dierdre Krymski, who explained her position at Heinz company in Pittsburgh. She talked about the structure of her division at Heinz and how the different departments dovetail their work to assure that Heinz puts out quality, good-looking products which meet company standard and specifications. They assure that their products and display counterparts are shipped properly, and to the correct vendors. Dierdre also spoke about herself, including her propensity to be an adrenaline junkie. She shared pictures of herself white water rafting, sky diving and dog sledding.
Another presentation was given by Kelly Ann McMillin, to showcase her area of expertise social media. Beginning with a definition of social media any medium that allows 2-way communication Kelly Ann walked through the many ways social media can be used for professional and commercial use. She pointed out that companies use social media for more than just self-promotion. Social media can be used effectively for lead generation, crisis management, running campaigns and community involvement and general input. Kelly Ann offered members a discount on her social media services through her company, U Voice It (http://www.u-voice-it.com) and her presentation generated an enormous amount of questions and comments.
The Chapter then discussed their upcoming appearance at the Canon MacMillan High School Femina Club. Dulce Miller, a representative from the club, invited the Pittsburgh Chapter to speak and graciously agreed to speak at a Pittsburgh Chapter meeting as well. It was agreed that emails would be sent to those members who had expressed interest in attending, and through those emails a date would be set for the appearance. Dena Heinlein, chapter member, offered to take photos at the event, should her schedule allow her to attend, as well as promote the event through the media.
The Chapter discussed the possibility of hosting a presentation regarding website building. The group aims to offer more extensive information than basic how to post web site pages. It was agreed that many websites offer a point and click service to do that. The group discussed how much better it would be to host a series of presentations that explain, not only how to put up a website, but also how to build traffic, build and manage an incoming and out-going link system, be aware of necessary regulations and business laws pertaining to commercial websites and how to make real money with a commercial website of your own. It was decided that this would be a presentation for chapter members in the near future, as setting up a series of presentations will take time and planning.
The Chapter spoke at some length about social pages and how they can be better utilized for communication. Several members spoke of being disappointed with the slowness of the Flash on the NAPW national website. The chapter is also hoping to see meeting minutes posted on the chapter page soon.
Before concluding, new members were asked what brought them to that particular meeting and what they would suggest in terms of making meetings more newbie-friendly. One of the new members, Debra Griffiths, said that the new venue made her feel safer, in terms of location, and that it was easier for her to get to. She also suggested name tags be used at meetings and socials.
Chapter President Susan Bosco reminded members about a special April get together.
"April's meeting will be a social mixer to celebrate the one year anniversary of our chapter founding," she said. The group spoke amongst themselves briefly after the meeting closed at 8:30pm.
For additional information regarding the Pittsburgh Local Chapter and/or NAPW, please visit http://www.napw.com.
Follow us on Facebook and Twitter.
# # #
Related posts:
Tweet
Buffer