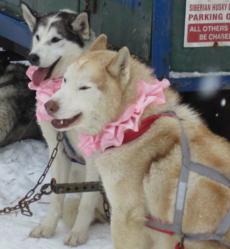 Grand Marais, MN (PRWEB) January 25, 2012
When the officials announced the cancellation of the John Beargrease Sled Dog Marathon on January 16th, 2012 it didn't take long for the Gunflint Trail mushing community to plan a replacement race. The Gunflint Trail Mail Run sled dog race will be held on January 30th and 31st.
The Mail Run will begin and end on Devil's Track Lake with a turn-around point at Trail Center Lodge on the Gunflint Trail. The Mail Run isn't new to the Gunflint Trail and was held for a number of years prior to the development of the Beargrease Sled Dog Marathon. It was held again in 2007, the only other time the Beargrease has been cancelled.
According to to the Beargrease website: "For almost twenty years, between 1879 and 1899, John Beargrease and his brothers delivered the mail between Two Harbors and Grand Marais." "John Beargrease himself was best known for his winter travels by dogsled." It was in his honor the original Gunflint Trail Mail Run was started and in his honor it will occur again this year.
The folks on the Gunflint Trail love mushing events and this is especially true for owner of Trail Center Lodge, Sarah Hamilton. We really enjoy being the turnaround point for the Beargrease each year, and are excited to hear that our musher friends will still be stopping by mid-race. And were really excited about it being called the Gunflint Mail Run because of the history of it.
Sarah and Trail Center are also highly involved in the Mush for a Cure, a Sled Dog FUNdraiser on the Gunflint Trail in March. Her location is the finish line for the non-competitive sled dog event that raises money to help in the fight against breast cancer. March 9-11th is the 6th Annual Mush for a Cure on the Gunflint Trail and plans are well underway.
"I don't think we ever start planning for the Mush for a Cure because we never quit planning for it," says organizer and owner of Voyageur Canoe Outfitters Mike Prom. "We're already trying to figure out how to make the next year's event better even before the current year's event is over." Mike's wife Sue is co-founder of the successful event that has raised over $ 100,000 for the National Breast Cancer Foundation.
The Gunflint Trail is a popular vacation place in the summer due to its close proximity to the Boundary Waters Canoe Area Wilderness. In the winter it is known for having over 200 kilometers of groomed cross-country ski trails. The Gunflint Trail is quickly becoming the place for mushing especially this winter when the lack of snow elsewhere just makes the Trail the ideal place for another dog sled event.
###
Related posts:
Tweet
Buffer