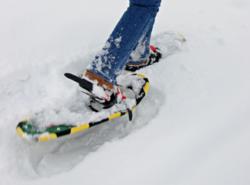 Benzie County, MI (Vocus/PRWEB) February 10, 2011
Theres fun ahead for wintertime travelers who love outdoor winter sports and Michigan vacations. Benzie County, known as the best place in Michigan for outdoor sports, has three winter events to celebrate the beauty in this region located along Lake Michigan. The events include Winterfest, a great winter family event on February 12, 2011 in the quaint village of Beulah, Shiver by the River a Michigan SnoCross event in port cities Frankfort and Elberta on February 19 – 20, 2011, and a brand new environmental event called Benzie County Water Festival in and around Frankfort on March 18 19, 2011 organized by the Benzie County Water Council.
According to Mary Carroll, President of Benzie County Visitors Bureau, We celebrate wintertime with events that highlight our beautiful location and climate. Snowshoeing, downhill and cross-country skiing, snowboarding and snowmobiling are abundant here. Weve made quite an impression on visitors from the larger cities who want to get away to do something healthy, natural and active.
Benzie County is the perfect winter escape for those who like winter sports and outdoor adventure. There is excellent downhill skiing, cross-country skiing, and snowboarding at Crystal Mountain Resort and Spa, as well as, dog sled excursions that the family can enjoy. For those who seek a chance to see Michigans beautiful winter scenery there is snowshoeing along marked trails in Benzie County or along the Lake Michigan dunes and over 40 kilometers of groomed cross country skiing trails. Snowmobile rentals are also available to experience 135 miles of groomed natural trails. Book a winter get away to Benzie County, which is nearby to numerous award winning wineries and unique restaurants. Hotels, motels, inns, b&bs, and a top rated luxury resort are within minutes of beautiful natural areas to enjoy downhill skiing and snowboarding, cross country skiing, snowshoeing, snowmobiling, and much more.
For more information on Benzie County lodging, restaurants, outdoor recreation and events contact Benzie County Visitors Bureau at 1-800-882-5801 or see http://www.visitbenzie.com.
Winterfest in Benzie County

In the Villages of Beulah and Benzonia

Saturday, February 12, 2011
Make your way to Benzie County for "Winterfest", a day packed with fun, food, and other unique winter activities. A must-see event in this festival is the fireworks display over Crystal Lake, one of the largest lakes in Michigan, and a bonfire on the beach.
3rd Annual Shiver By The River

In the City and Village of Frankfort and Elberta

Saturday, February 19 Sunday, February 20, 2011
Snocross snowmobile races in downtown Frankfort highlight the winter weekend event "Shiver by The River". More than 100 riders will compete in a series of SnoCross snowmobile races on an obstacle track built in the citys Open Space Park. The event includes "bowling on Main St", Kid's games, a Winter Parade and numerous warming stations along the downtown street where you can go inside to get warm and enjoy numerous restaurants. Activities will also take place in the quaint village of Elberta.
Benzie County Water Festival

March 18th – 19th, 2011

Location: In and around Frankfort, Michigan
Benzie County Water Festival, a brand new event in 2011, will feature world-class Michigan musicians, speeches from water experts, interactive multimedia projects and presentations, workshops, visual art, theater, dance, and childrens activities on water related topics, and artisan foods and beverages. The Benzie County Water Festival is an event put on by the Benzie Community Water Council and focuses on campaigns and projects to protect local water resources and addresses global water challenges. Family and Kids activities include an ice fishing contest, snowman competition, youth art exhibition, a kids concert, painting with watercolors, and a story hour. There will be food, such as the Water Festivals Soup Kitchen, and a speaker series about water issues.
# # #
Related posts:
Tweet
Buffer