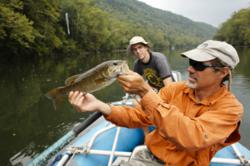 Richmond, VA (PRWEB) March 27, 2012
When it comes to the outdoors, Virginia is a stunner, with beauty as far as the eye can see, declares the Virginia Tourism Corporation. From the shores of the Chesapeake Bay to the majestic Blue Ridge Mountains, Mother Nature is a major draw in Virginia.
The great outdoors brings families to Virginia to unplug, unwind, and just be together. Whether camping at a national or Virginia State Park, fishing in the states rivers and streams, hiking a mountain trail, or kayaking through a tributary, Virginia offers a memorable destination for outdoor enthusiasts.
This spring and summer will be even better for outdoor lovers visiting Virginia as new additions to parks and resorts, brand-new outdoor attractions and new, exciting outdoor tours will surely make for memorable vacations. Below is a selection of new outdoor experiences in Virginia. These and many more found at http://www.Virginia.org/outdoors.
Virginia State Parks – New for 2012

New this year, Virginia State Parks will focus programs and special events in conjunction with well-known national events. Every state park in Virginia will have something special associated with spring break including activities, tours and programs from March 30 to April 15, as well as similar celebrations for these upcoming nationally recognized days:

Related posts:
Tweet
Buffer