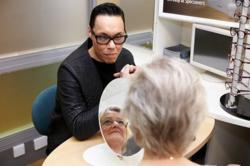 Glasgow, Scotland (PRWEB UK) 2 April 2012
A stylish pair of glasses could be just what you need to spice up your look and maybe even get the opposite sex to sit up and take notice, according to television star and fashion guru Gok Wan.
The How to Look Good Naked presenter was out on the road this month promoting his line of designer glasses and said that, nowadays, a good set of glasses means so much more than just improved vision its a style statement that can enhance your whole look.
Glasses are really important now, he told Scottish broadcaster STV on the Glasgow City Centre leg of his national tour. Theyve had a massive renaissance in the last six years where theyve become not only an optical device, but also a great fashion staple people are using them as accessories now, a lot of the kids are wearing them without the lenses in, which is brilliant.
Gok went on to say that designer glasses are now an integral part of celebrity culture, with many stars now sporting them in the pages of glossy magazines and models being asked to don them when taking part in advertising campaigns. So if you ever wanted to feel fashionable and glamorous then now is the time to get your specs out, he explained.
When asked for his thoughts on the old saying that men dont tend to chat up women who wear glasses, the TV style guru said that such a statement was complete rubbish and that there were plenty of stylish ladies out there that proved it, adding: I love it when Kelly Osbourne wears glasses and Alexa Chung of course.
He concluded: In fact some guys I know prefer girls in glasses so get your specs on ladies if youre single.
Goks latest collection GW by Gok Wan has 13 new frames and is the second that he has created with Specsavers. The collection comes in a range of fabulous styles and colours and is designed to suit all ages and face shapes. Visit http://www.specsavers.co.uk to see the new designs and to find your nearest store.
Issued by MEC on behalf of Specsavers

Specsavers notes to editors

Related posts:
Tweet
Buffer