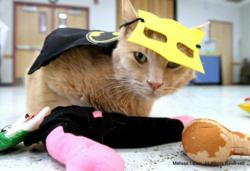 Salt Lake City, UT (PRWEB) April 06, 2012
What happens when Supurrman, Spawderman, Catman, Whisker Woman and Captain Americlaw join forces against a terrible trio of (catnip-stuffed) villains?
KAZAM! Its the perfect formula for fantastic feline crime-fighting chaos.
Five courageous cats sported superhero capes and avenged evil to mark the debut of the new Cat Crusaders volunteer team at a shelter in Salt Lake City, Utah. The masterminds behind the Cat Cru are another dynamic duoSalt Lake County Animal Services and Best Friends Animal Society.
The goal of the Cat Cru is to increase the feline save rate by 10 percent over last year in Utahs largest city. Salt Lake County Animal Services took in 4,355 cats and kittens last year, and 2,457 were adopted, rescued or returned to their owners. Holy statistics Catman!
The Cat Cru is modeled after another very successful joint effort between Best Friends and Animal Services– the very successful Pit Crew program, which, since its inception in July 2009, has bumped up the shelters save rate for adoptable pit bull terrier-type dogs from 80 percent in 2008 to 99 percent in 2011.
Salt Lake County Animal Services officials hope that working closely with Best Friends, a national leader in the no-kill movement, will help change peoples perception of the shelter.
One of our biggest challenges right now is shaking the stereotype of Animal Control where people see us as the pound or simply a stray holding facility, said John Coulter, special program manager for Salt Lake County Animal Services. We want to attract new adopters to our shelter and market ourselves as an organization that is committed to saving animals lives. Our Cat Cru volunteers will be instrumental in helping us create a movement that does just that.
Organizers are plotting to develop the Cat Cru into an active volunteer network that creates proactive solutions to boost feline adoptions. Volunteers will photograph the cats and write captivating descriptions to increase their online and in-purrson appeal. Theyll also function as adoption ambassadors who will meet and greet potential cat adopters, answer questions and assist with adoptions.
A special group of Cat Crusaders will serve as the neonatal teamon-call fosters ready to swoop in and rescue orphaned newborn kittens needing immediate bottle feeding. These teams will care for these bottle babies temporarily until a longer-term foster home can be arranged.
Cat Cru volunteers will play a super important lifesaving role for these homeless cats and kittens. But equally important are all the heroes and heroines who save lives by adopting their fabulous felines from the shelter.
In the spirit of saving lives and working with other humane groups to bring about a day when there are No More Homeless Pets, Best Friends Animal Society partners with Salt Lake County Animal Services to help find furever families for as many pets as possible.
About Best Friends Animal Society
Related posts:
Tweet
Buffer